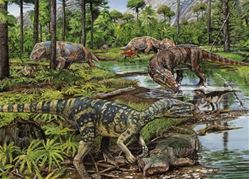 The Triassic period was the first period in the Mezoic era.
Creatures, and Brief Overview
Edit
The Triassic period was a period, that was recovering from the mass Permian period exticntion, it had many animals, and it had another extinction, at the end of the Triassic period. These are the type of animals, that the wiki has on the Triassic period animals.
In Other Media
Edit
The Triassic period appeared as the period in walking with monsters": episode 3, Clash of the titans, and walking with dinosaurs, episode 1, New Blood.