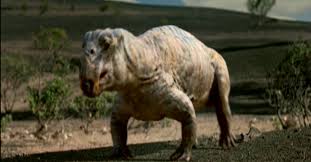 Lystrosaurus was a pig sized dicynodont that was similar to Dicynodon . 
Lystrosaurus moved in monster herds and ate up so much vegetation that they had to migrate constantly. They sometimes had to walk in single file so they were at danger to the smaller, but venomous therocephalians. It was also preyed on by the gorgonopsians like lycaenops, which was a relative of the huge synapsid, Gorgonopsid.
In Other Media
Edit
Lystrosaurus was a main character/protagonist in the second half of the Walking With Monsters: episode 3, Clash of the Titans. It followed a herd of Lystrosaurus.
Ad blocker interference detected!
Wikia is a free-to-use site that makes money from advertising. We have a modified experience for viewers using ad blockers

Wikia is not accessible if you've made further modifications. Remove the custom ad blocker rule(s) and the page will load as expected.