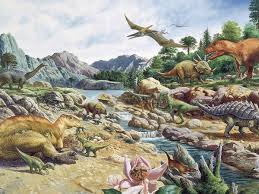 The Cretaceous was the last and largest period in the Mezoic era.
Creatures, and Brief Overview
Edit
The Cretaceous period is the most famous period of the age of the dinosaurs. It included some of the largest dinosaurs, that has ever lived on the Earth. These are the Cretaceous period animals, that are on the wiki.
In Other Media
Edit
The Cretaceous period was used as the main period, for 3 episodes, of Walking With Dinosaurs, Giant of the Skies, Spirits of the Ice forests, and Death of a dynasty. The Cretaceous period was also shown in Planet Dinosaur: episodes 1 through the entire series, except for some parts of the shows.
Ad blocker interference detected!
Wikia is a free-to-use site that makes money from advertising. We have a modified experience for viewers using ad blockers

Wikia is not accessible if you've made further modifications. Remove the custom ad blocker rule(s) and the page will load as expected.