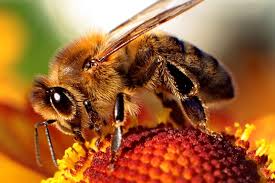 A bee is a genus of Insects that take pollen off of flowers.
Honey bees and yellow jackets are some of the best known bees alive today. They are famously known for their stingers. 
if a bee stings some thing  the stinger will fall off and the bee will dead sooner or later
In Other Media
Edit
Bees have appeared in many different documentaries.
Ad blocker interference detected!
Wikia is a free-to-use site that makes money from advertising. We have a modified experience for viewers using ad blockers

Wikia is not accessible if you've made further modifications. Remove the custom ad blocker rule(s) and the page will load as expected.